R D Mathis tungsten evaporation filaments
thermal vacuum evaporation filaments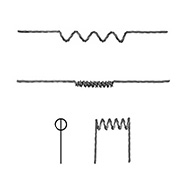 examples of
Tungsten coiled
evaporation filaments
Introduction
Tungsten filaments are used extensively for thin film deposition for a wide variety of metals and alloys. Benefits are ease of use, repeatability, low cost, long life, high evaporation rates with low power. They are used for evaporating pieces of metal wire or metal foil which can be inserted into the coils of the filament. Alternatively, thin wire can be wrapped around the coils. The evaporation process involves melting the metal to wet the filaments coils and subsequently increase power to evaporate the molten metal. The evaporation filaments are all made from tungsten wires in various thicknesses.
Available as single stand sources and sources with 3 or 4 strands. They can be used for upwards, sideways evaporation. Downwards evaporation is only advised if the substrate not directly positioned underneath the evaporation filament source. Care needs to be taken when evaporating aluminium with the filaments; aluminium forms an alloy with the tungsten filament, which drastically influences the power requirements in multistrand filaments. Best to use a new tungsten filament for each evaporation cycle with aluminium. The low cost, Z-shape tungsten filament 72-Z1W3-2.3 has been especially developed for consistent aluminium evaporation. The coiled tungsten evaporation filaments are suitable for:
Thin film production processes for metalising surfaces
Relatively small amounts of expensive materials
System with a smaller power source
R & D and product development applications
Sample preparation applications
Overview
Ordering information for coiled tungsten evaporation filaments
.
*Prices without VAT, but within the EU, we have to check for valid VAT-ID.
Evaporation filament Z1, Z-shape, with 5 x Ø7mm ID coils, 32mm wide, tungsten
Product #
Unit
Price*
Add to Quote / Order
72-Z1W3-2.3
Evaporation filament Z1, Z-Shape, 4.28 Volts, 62 Amps, 265 Watts, 1800⁰ C Temp, 3 x tungsten strand Ø0.76mm


pkg/10
€22,90
Evaporation filament F1 with 10 x Ø1.6mm ID coils, 100mm long, tungsten
Product #
Unit
Price*
Add to Quote / Order
72-F1W-1
Evaporation filament F1, 3.07 Volts, 36 Amps, 111 Watts, 1800⁰ C Temp, 1 x tungsten strand Ø1mm


pkg/5
€34,00
72-F1W3-1.9
Evaporation filament F1, 3.00 Volts, 42 Amps, 126 Watts, 1800⁰ C Temp, 3 x tungsten strand Ø0.64mm


pkg/5
€36,90
72-F1W3-2.3
Evaporation filament F1, 2.94 Volts, 54 Amps, 159 Watts, 1800⁰ C Temp, 3 x tungsten strand Ø0.76mm


pkg/5
€41,60
Evaporation filament F2 with 4 x Ø4.8mm ID coils, 100mm long, tungsten
Product #
Unit
Price*
Add to Quote / Order
72-F2W3-1.9
Evaporation filament F2, 3.43 Volts, 49 Amps, 168 Watts, 1800⁰ C Temp, 3 x tungsten strand Ø0.64mm


pkg/5
€30,20
72-F2W3-2.3
Evaporation filament F2, 3.08 Volts, 63 Amps, 194 Watts, 1800⁰ C Temp, 3 x tungsten strand Ø0.76mm


pkg/5
€33,10
72-F2W4-3
Evaporation filament F2, 2.70 Volts, 77 Amps, 208 Watts, 1800⁰ C Temp, 4 x tungsten strand Ø0.76mm


pkg/5
€35,90
Evaporation filament F3 with 6 x Ø4.8mm ID coils, 127mm long, tungsten
Product #
Unit
Price*
Add to Quote / Order
72-F3W-1
Evaporation filament F3, 3.91 Volts, 39 Amps, 152 Watts, 1800⁰ C Temp, 1 x tungsten strand Ø1mm


pkg/5
€32,10
72-F3W2-2
Evaporation filament F3, 4.00 Volts, 68 Amps, 272 Watts, 1800⁰ C Temp, 2 x tungsten strand Ø1mm


pkg/5
€42,50
72-F3W3-1.9
Evaporation filament F3, 4.61 Volts, 48 Amps, 221 Watts, 1800⁰ C Temp, 3 x tungsten strand Ø0.64mm


pkg/5
€34,00
72-F3W3-2.3
Evaporation filament F3, 4.15 Volts, 60 Amps, 249 Watts, 1800⁰ C Temp, 3 x tungsten strand Ø0.76mm


pkg/5
€35,90
72-F3W4-3
Evaporation filament F3, 4.00 Volts, 77 Amps, 308 Watts, 1800⁰ C Temp, 4 x tungsten strand Ø0.76mm


pkg/5
€44,40
Evaporation filament F4 with 6 x Ø6.4mm ID coils, 100mm long, tungsten
Product #
Unit
Price*
Add to Quote / Order
72-F4W-1
Evaporation filament F4, 3.70 Volts, 38 Amps, 141 Watts, 1800⁰ C Temp, 1 x tungsten strand Ø1mm


pkg/5
€30,20
72-F4W2-2
Evaporation filament F4, 3.97 Volts, 66 Amps, 262 Watts, 1800⁰ C Temp, 2 x tungsten strand Ø1mm


pkg/5
€44,40
72-F4W3-1.9
Evaporation filament F4, 5.29 Volts, 48 Amps, 254 Watts, 1800⁰ C Temp, 3 x tungsten strand Ø0.64mm


pkg/5
€33,10
72-F4W3-2.3
Evaporation filament F4, 4.28 Volts, 62 Amps, 265 Watts, 1800⁰ C Temp, 3 x tungsten strand Ø0.76mm


pkg/5
€35,90
72-F4W4-3
Evaporation filament F4, 3.63 Volts, 73 Amps, 265 Watts, 1800⁰ C Temp, 4 x tungsten strand Ø0.76mm


pkg/5
€42,50
Evaporation filament F5 with 10 x Ø6.4mm ID coils, 127mm long, tungsten
Product #
Unit
Price*
Add to Quote / Order
72-F5W-1
Evaporation filament F5, 6.90 Volts, 37 Amps, 255 Watts, 1800⁰ C Temp, 1 x tungsten strand Ø1mm


pkg/5
€39,70
72-F5W2-2
Evaporation filament F5, 6.82 Volts, 64 Amps, 436 Watts, 1800⁰ C Temp, 2 x tungsten strand Ø1mm


pkg/5
€59,50
72-F5W3-1.9
Evaporation filament F5, 8.05 Volts, 45 Amps, 362 Watts, 1800⁰ C Temp, 3 x tungsten strand Ø0.64mm


pkg/5
€46,30
72-F5W3-2.3
Evaporation filament F5, 6.58 Volts, 57 Amps, 375 Watts, 1800⁰ C Temp, 3 x tungsten strand Ø0.76mm


pkg/5
€63,30
72-F5W3-3
Evaporation filament F5, 5.60 Volts, 83 Amps, 465 Watts, 1800⁰ C Temp, 3 x tungsten strand Ø1mm


pkg/5
€67,10
72-F5W4-3
Evaporation filament F5, 6.10 Volts, 69 Amps, 421 Watts, 1800⁰ C Temp, 4 x tungsten strand Ø0.76mm


pkg/5
€64,30
Evaporation filament F6 with 8 x Ø9.5mm ID coils, 127mm long, tungsten
Product #
Unit
Price*
Add to Quote / Order
72-F6W2-2
Evaporation filament F6, 7.20 Volts, 64 Amps, 461 Watts, 1800⁰ C Temp, 2 x tungsten strand Ø1mm


pkg/5
€64,30
72-F6W3-1.9
Evaporation filament F6, 8.72 Volts, 44 Amps, 384 Watts, 1800⁰ C Temp, 3 x tungsten strand Ø0.64mm


pkg/5
€47,30
72-F6W3-2.3
Evaporation filament F6, 8.25 Volts, 58 Amps, 478 Watts, 1800⁰ C Temp, 3 x tungsten strand Ø0.76mm


pkg/5
€52,00
72-F6W3-3
Evaporation filament F6, 6.42 Volts, 84 Amps, 539 Watts, 1800⁰ C Temp, 3 x tungsten strand Ø1mm


pkg/5
€72,80
72-F6W4-3
Evaporation filament F6, 7.29 Volts, 71 Amps, 518 Watts, 1800⁰ C Temp, 4 x tungsten strand Ø0.76mm


pkg/5
€62,40
Evaporation filament F7 with 14 x Ø9.5mm ID coils, 127mm long, tungsten
Product #
Unit
Price*
Add to Quote / Order
72-F7W2-2
Evaporation filament F7, 10.97 Volts, 55 Amps, 603 Watts, 1800⁰ C Temp, 2 x tungsten strand Ø1mm


pkg/3
€55,10
72-F7W3-2.3
Evaporation filament F7, 11.65 Volts, 52 Amps, 606 Watts, 1800⁰ C Temp, 3 x tungsten strand Ø0.76mm


pkg/3
€47,70
72-F7W3-3
Evaporation filament F7, 9.40 Volts, 78 Amps, 733 Watts, 1800⁰ C Temp, 3 x tungsten strand Ø1mm


pkg/3
€65,70
72-F7W4-3
Evaporation filament F7, 7.29 Volts, 71 Amps, 518 Watts, 1800⁰ C Temp, 4 x tungsten strand Ø0.76mm


pkg/3
€54,40
Evaporation filament F8 with 6 x Ø7.9mm ID coils, 127mm long, tungsten
Product #
Unit
Price*
Add to Quote / Order
72-F8W2-2
Evaporation filament F8, 5.00 Volts, 66 Amps, 330 Watts, 1800⁰ C Temp, 2 x tungsten strand Ø1mm


pkg/5
€46,30
72-F8W3-2.3
Evaporation filament F8, 5.39 Volts, 62 Amps, 334 Watts, 1800⁰ C Temp, 3 x tungsten strand Ø0.76mm


pkg/5
€43,50
72-F8W3-3
Evaporation filament F8, 4.61 Volts, 87 Amps, 401 Watts, 1800⁰ C Temp, 3 x tungsten strand Ø1mm


pkg/5
€63,30
72-F8W4-3
Evaporation filament F8, 5.09 Volts, 74 Amps, 377 Watts, 1800⁰ C Temp, 4 x tungsten strand Ø0.76mm


pkg/5
€54,80
Evaporation filament F9 with 8 x Ø7.9mm ID coils, 127mm long, tungsten
Product #
Unit
Price*
Add to Quote / Order
72-F9W2-2
Evaporation filament F9, 6.66 Volts, 65 Amps, 433 Watts, 1800⁰ C Temp, 2 x tungsten strand Ø1mm


pkg/5
€61,40
72-F9W3-2.3
Evaporation filament F9, 6.50 Volts, 57 Amps, 370 Watts, 1800⁰ C Temp, 3 x tungsten strand Ø0.76mm


pkg/5
€59,50
72-F9W3-3
Evaporation filament F9, 5.43 Volts, 86 Amps, 467 Watts, 1800⁰ C Temp, 3 x tungsten strand Ø1mm


pkg/5
€72,80
72-F9W4-3
Evaporation filament F9, 6.07 Volts, 71 Amps, 431 Watts, 1800⁰ C Temp, 4 x tungsten strand Ø0.76mm


pkg/5
€60,50
Evaporation filament F10 with 14 x Ø7.9mm ID coils, 152mm long, tungsten
Product #
Unit
Price*
Add to Quote / Order
72-F10W2-2
Evaporation filament F10, 10.62 Volts, 61 Amps, 648 Watts, 1800⁰ C Temp, 2 x tungsten strand Ø1mm


pkg/3
€52,70
72-F10W3-2.3
Evaporation filament F10, 10.90 Volts, 55 Amps, 600 Watts, 1800⁰ C Temp, 3 x tungsten strand Ø0.76mm


pkg/3
€45,90
72-F10W3-3
Evaporation filament F10, 9.02 Volts, 83 Amps, 749 Watts, 1800⁰ C Temp, 3 x tungsten strand Ø1mm


pkg/3
€64,10
72-F10W4-3
Evaporation filament F10, 10.00 Volts, 68 Amps, 680 Watts, 1800⁰ C Temp, 4 x tungsten strand Ø0.76mm


pkg/3
€52,20
Evaporation filament F11 with 6 x Ø12.7mm ID coils, 127mm long, tungsten
Product #
Unit
Price*
Add to Quote / Order
72-F11W2-2
Evaporation filament F11, 6.74 Volts, 65 Amps, 438 Watts, 1800⁰ C Temp, 2 x tungsten strand Ø1mm


pkg/5
€68,00
72-F11W3-2.3
Evaporation filament F11, 7.07 Volts, 58 Amps, 410 Watts, 1800⁰ C Temp, 3 x tungsten strand Ø0.76mm


pkg/5
€61,40
72-F11W3-3
Evaporation filament F11, 5.70 Volts, 87 Amps, 496 Watts, 1800⁰ C Temp, 3 x tungsten strand Ø1mm


pkg/5
€84,10
72-F11W4-3
Evaporation filament F11, 6.40 Volts, 70 Amps, 448 Watts, 1800⁰ C Temp, 4 x tungsten strand Ø0.76mm


pkg/5
€65,20
Evaporation filament F12, U-shape, with 5 x Ø6.4mm ID coils, 25mm wide, tungsten
Product #
Unit
Price*
Add to Quote / Order
72-F12W3-1.9
Evaporation filament F12, U-shape, 4.44 Volts, 46 Amps, 204 Watts, 1800⁰ C Temp, 3 x tungsten strand Ø0.64mm


pkg/5
€33,10
72-F12W3-2.3
Evaporation filament F12, U-Shape, 3.82 Volts, 57 Amps, 218 Watts, 1800⁰ C Temp, 3 x tungsten strand Ø0.76mm


pkg/5
€35,00
Evaporation filament F13, U-shape, with 10 x Ø9.5mm ID coils, 51mm wide, tungsten
Product #
Unit
Price*
Add to Quote / Order
72-F13W3-1.9
Evaporation filament F13, U-shape, 11.00 Volts, 44 Amps, 484 Watts, 1800⁰ C Temp, 3 x tungsten strand Ø0.64mm


pkg/5
€48,20
72-F13W3-2.3
Evaporation filament F13, U-Shape, 9.06 Volts, 57 Amps, 516 Watts, 1800⁰ C Temp, 3 x tungsten strand Ø0.76mm


pkg/5
€60,50
72-F13W4-3
Evaporation filament F13, U-shape, 8.59 Volts, 71 Amps, 610 Watts, 1800⁰ C Temp, 4 x tungsten strand Ø0.76mm


pkg/5
€69,00
Evaporation filament F14, U-shape, with 8 x Ø12.7mm ID coils, 51mm wide, tungsten
Product #
Unit
Price*
Add to Quote / Order
72-F14W3-2.3
Evaporation filament F14, U-Shape, 9.44 Volts, 56 Amps, 529 Watts, 1800⁰ C Temp, 3 x tungsten strand Ø0.76mm


pkg/3
€39,20
72-F14W3-3
Evaporation filament F14, 8.20 Volts, 88 Amps, 722 Watts, 1800⁰ C Temp, 3 x tungsten strand Ø1mm


pkg/3
€52,50
72-F14W4-3
Evaporation filament F14, U-shape, 8.80 Volts, 68 Amps, 598 Watts, 1800⁰ C Temp, 4 x tungsten strand Ø0.76mm


pkg/3
€54,40
Evaporation filament F15 with 10 x Ø12.7mm ID coils, 127mm long, tungsten
Product #
Unit
Price*
Add to Quote / Order
72-F15W3-2.3
Evaporation filament F15, 11.53 Volts, 57 Amps, 657 Watts, 1800⁰ C Temp, 3 x tungsten strand Ø0.76mm


pkg/3
€43,70
72-F15W3-3
Evaporation filament F15, 9.66 Volts, 85 Amps, 821 Watts, 1800⁰ C Temp, 3 x tungsten strand Ø1mm


pkg/3
€63,90
72-F15W4-3
Evaporation filament F15, 10.63 Volts, 70 Amps, 744 Watts, 1800⁰ C Temp, 4 x tungsten strand Ø0.76mm


pkg/3
€48,70