FlowView Aquirius liquid sample chamber for SEM
easy to use liquid material analysis solution for SEM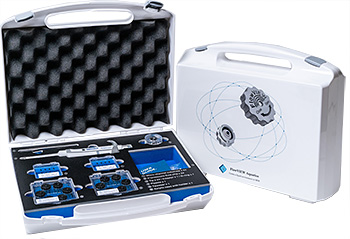 Flowview Aquarius complete starter kit with preparation tools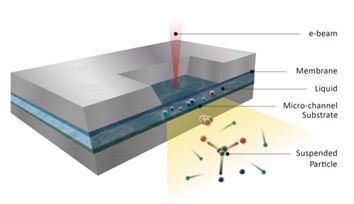 Priciple of the FlowView Aquarius chip with
electron transparent Si3N4 membrane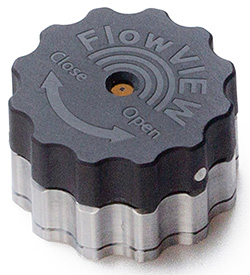 Top view of assembled liquid chamber
The membrane is visible in the center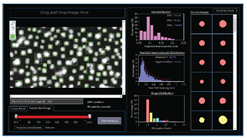 FlowView image analysis software
Original image of liquid-material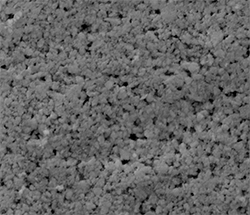 Aggregate particles after dry up
Aluminum paste
introduction
The FlowView Aquarius liquid sample chamberis an easy to use tool to image and analyse liquids, suspensions, solutions, slurries, pastes and other materials which would evaporate quickly in vacuum. The FlowView Aquarius sample chamber is a single-use liquid sample chamber with a an electron transparent Silicon Nitride membrane to keep the liquid specimen intact. There are three Si3N4 membrane types available:
Aquarius chips with 50 nm thickness and 150x150x um window for standard application
Aquarius chips with 20 nm thickness and 20x20 um window for high resolution application
Aquarius chips with 30 nm thickness and 250 x 250 um window for large area observations.
The high resolution chips allow for imaging objects smaller than 10nm.The FlowVIewAquarius liquid sample chambers are primarily developed for materials analysis and particle analysis applications. The three component sample chamber is easy to use with specially developed preparation tools and resembles an SEM specimen stub when prepared for use in the SEM. The FlowView Aquarius liquid chambers with M4 threaded sample stubs are directly compatible with Hitachi SEMs and with SEMS using pin stubs by using the supplied pins tub adapter. For first time users we advise to purchase the FlowView starter kit and purchase more liquid sample chambers when needed. The silicon nitride window is held in a silicon frame. These are both relatively inert materials and are compatible with water, solvents, oils, fuels, mild acids and mild alkalis. Application examples are:
Nano-particle reserach
Quality control of solutions and suspensions
X-ray analysis of nano-particles
Direct SEM observation of liquid samples w/o drying
Analysis of particle inclusions in oils, grease, fuels or pastes
The FlowView Aquarius starter kit includes:
24 Aquarius liquid sample chambers
24 Aquirius chips with electron transparent membrane
tweezers for picking up the membrane chips
precision pipette
24 tips
1 O-ring
1 Gasket
Acrylic liquid chamber standard
Acrylic liquid chamber closing cap
1 pin stub adapter
storage case
FlowView image analysis software
FlowView image analysis software
The FlowView image analysis software is included in the FlowView liquid sample starter kit and features:
Easy to use with user friendly design
Multiple functions to include Particle size distribution, dispersion and particle shape analysis
Fully automatic iamge analysis with a single button
Fast analysis – typically within 1 minute for liquid sample images
FlowView sample preparation steps: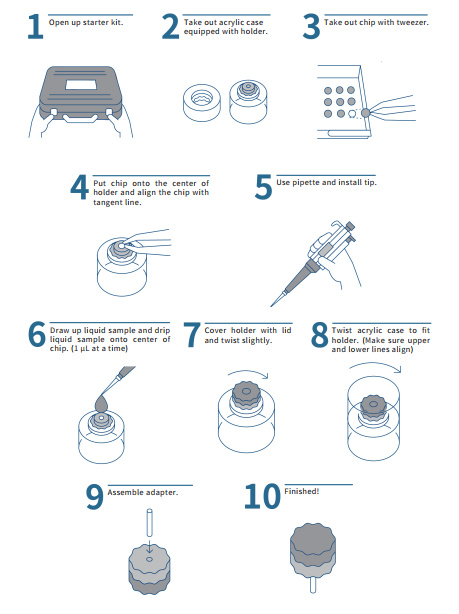 Ordering Information for the FlowView Aquarius liquid sample chamber for SEM


*Prices without VAT, but within the EU, we have to check for valid VAT-ID.
| | FlowView Aquirius starter kist for the liquid sample chambers for SEM/EDS |
| --- | --- |
Product #
Unit
Price*
Add to Quote / Order
15-008901
FlowView Aquirius AS01 starter kit for standard applications with 50nm membrane and 150 x 150 μm window


each
€4500,00
15-008902
FlowView Aquirius AS02 starter kit for high resolution applications with 20nm membrane and 20 x 20 μm window


each
€6700,00
15-008903
FlowView Aquirius AS03 starter kit with large window, 30nm membrane and 250 x 250 μm window


each
€5100,00
| | Flowview Aquarius supplementary packs with chips and liquid sample chambers |
| --- | --- |
Product #
Unit
Price*
Add to Quote / Order
15-008911
Flowview Aquarius ASP1 supplementary pack for standard applications, 50 nm membrane and 150 x 150 μm window


pkg/12
€1000,00
15-008912
Flowview Aquarius ASP2 supplementary pack for high resolution applications, 20 nm membrane and 20 x 20 μm window


pkg/12
€1450,00
15-008913
Flowview Aquarius ASP3 supplementary pack with large window, 30 nm membrane and 250 x 250 μm window


pkg/12
€1125,00