EM-Tec acrylic Eyelash manipulator set for ultramicrotomy
perfectly manufactured Eyelash for ultramicrotomy

Introduction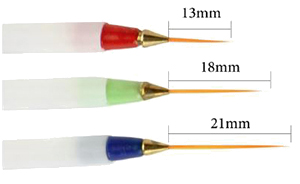 Perfectly manufactured Eyelash manipulators for carefully manipulating ultra-thin sections, small tissue samples and small microscopy samples. These cost-effective artificial Eyelash manipulators are ideally suited for ultramicrotomy to manipulate sections from the diamond knife. They are equally useful for sorting and manipulating sensitive samples under a stereo microscope.
The EM-Tec straight acrylic Eyelash manipulators exhibit excellent taper and a fine pointed tip. They are made from a selected acrylic material and mounted in a lightweight and well balanced polypropylene handle. The advantages of artificial eyelashes over natural hair eyelashes are the constant quality, consistent shape and control over the length of the eyelashes. The EM-Tec acrylic Eyelash manipulator set contains 3 Eyelash manipulators with a length of 13, 18 and 21mm which are numbered and colour-coded. The length of the handle is 140mm. Resistant to acetone, dichloroethane and trichloroethane-chloroform.
Ordering information for the EM-Tec acrylic Eyelash manipulator set
*Prices are without tax. Tax might be added in cart.
| | EM-Tec acrylic Eyelash manipulator set with 13, 18 and 21mm eyelashes |
| --- | --- |
| Product # | Unit | Price* | Add to Quote / Cart |
| --- | --- | --- | --- |
| 52-005103 | set/3 | €9,00 | |