R D Mathis Tungsten basket crucible heaters
evaporation baskets for vacuum thin film deposition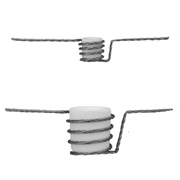 Examples of
Tungsten
evaporation baskets
Introduction
Tungsten basket crucible heaters are used for heating small crucibles in thin film deposition systems for a wide variety of metals and alloys. They are used to evaporate material which is molten in and subsequently evaporated from the crucible
The small crucibles can hold more material than evaporation filament sources or evaporation basket sources. These crucible heaters are cost-efficient crucible heaters which can be fitted in many high vacuum thin film deposition systems. They can only be used for relatively small crucibles since part of the power radiates away from the crucible
The tungsten basket style crucible heaters are made from tungsten wires to form a basket which fits around the outside of the crucible. The basket style crucible heaters are all made from tungsten wires in various thicknesses. Available as single stand sources and sources with 3 or 4 strands. They can be used for upwards evaporation only. The coiled tungsten evaporation baskets are suitable for:
Thin film production processes for metalising surfaces
Depositing thicker films
R & D and product development applications
Ordering information for R D Mathis Tungsten basket crucible heaters:
*Prices without VAT, but within the EU, we have to check for valid VAT-ID.
Tungsten heating basket B8A for crucible C1, 95 mm long
Product #
Unit
Price*
Add to Quote / Order
72-B8AW3-1.9
Heating basket B8A for crucible C1, 6.28 Volts, 47 Amps, 295 Watts, 1800⁰ C Temp, 3 x tungsten strand Ø0.63mm


pkg/5
€45,40
72-B8AW3-2.3
Heating basket B8A for crucible C1, 6.06 Volts, 55 Amps, 333 Watts, 1800⁰ C Temp, 3 x tungsten strand Ø0.76mm


pkg/5
€52,90
Tungsten heating basket B8B for crucible C9, 95 mm long
Product #
Unit
Price*
Add to Quote / Order
72-B8BW3-1.9
Heating basket B8B for crucible C9, 5.80 Volts, 43 Amps, 249 Watts, 1800⁰ C Temp, 3 x tungsten strand Ø0.63mm


pkg/5
€49,10
72-B8BW3-2.3
Heating basket B8B for crucible C9, 5.15 Volts, 57 Amps, 294 Watts, 1800⁰ C Temp, 3 x tungsten strand Ø0.76mm


pkg/5
€54,80
Tungsten heating basket B9 for crucible C2, 102 mm long
Product #
Unit
Price*
Add to Quote / Order
72-B9W3-2.3
Heating basket B9 for crucible C2, 8.42 Volts, 57 Amps, 480 Watts, 1800⁰ C Temp, 3 x tungsten strand Ø0.76mm


pkg/5
€77,50
72-B9W3-3
Heating basket B9 for crucible C2, 7.18 Volts, 85 Amps, 610 Watts, 1800⁰ C Temp, 3 x tungsten strand Ø1mm


pkg/5
€93,60
72-B9W4-3
Heating basket B9 for crucible C2, 7.76 Volts, 70 Amps, 543 Watts, 1800⁰ C Temp, 4 x tungsten strand Ø0.76mm


pkg/5
€93,60
Tungsten heating basket B10 for crucible C5, 102 mm long
Product #
Unit
Price*
Add to Quote / Order
72-B10W3-3
Heating basket B10 for crucible C5, 8.73 Volts, 85 Amps, 742 Watts, 1800⁰ C Temp, 3 x tungsten strand Ø1mm


pkg/5
€106,80
72-B10W4-3
Heating basket B10 for crucible C5, 9.76 Volts, 71 Amps, 693 Watts, 1800⁰ C Temp, 4 x tungsten strand Ø0.76mm


pkg/5
€100,20
Tungsten heating basket B11 for crucible C6, 127 mm long
Product #
Unit
Price*
Add to Quote / Order
72-B11W3-3
Heating basket B11 for crucible C6, 19.7 Volts, 84 Amps, 1655 Watts, 1800⁰ C Temp, 3 x tungsten strand Ø1mm


each
€58,60