Vacuum Oil for Rotary Vane Vacuum Pumps

Introduction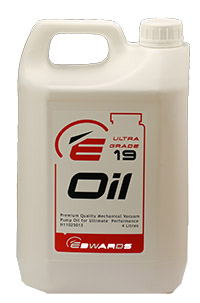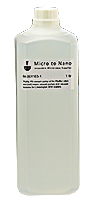 High quality vacuum oils for standard rotary vane vacuum pumps improve the performance of the rotary vacuum pumps used on scanning and transmission electron microscopes, sputter coating systems, vacuum ovens, glow discharge and other vacuum systems. The original brand vacuum pump oils offered are intended for standard rotary vacuum pump applications. Unlimited shelf life when stored in unopened containers in a cool, dark place.
It is advised to change the vacuum oil once a year or sooner if the colour of the vacuum oil changes from clear to dark yellow/light brown. The choice of vacuum pump oils for rotary vacuum pumps include:
Specifications for the rotary vacuum pump oils
Vacuum Pump Oil

Product #

64-001101-1 / 64-001101-4

64-001103-1

Appearance

Clear, pale yellowish liquid

Clear, pale yellowish liquid

Composition

Highly refined mineral oil + additives

Highly refined mineral oil + additives

Density @ 15°C

0.86

0.866

Vapour pressure @ 20°C

1 x 10E-8 mbar

6.6 x 10E-5 mbar

Ultimate pressure

1 x 10E-3 mbar

1 x 10E-3 mbar

Viscosity @ 15°C
Viscosity @ 40°C

144 cs
55cs

210cs
95cs

Pour point

-15°C

-15°C

Flash point

230°C

260°C
Ordering Information for Vacuum Oil for Rotary Vane Vacuum Pumps
*Prices without VAT, but within the EU, we have to check for valid VAT-ID.
| | Pfeiffer P3 vacuum pump oil for Pfeiffer UNO / DUO and other rotary vacuum pumps |
| --- | --- |
Product #
Unit
Price*
Add to Quote / Order
64-001103-1
Pfeiffer P3 vacuum pump oil for Pfeiffer UNO / DUO and other rotary vacuum pumps, 1 Liter


1 ltr
€21,00

Hazardous Symbol Explanation

= Hazard Shipping Fee

Cg

= Suspected Carcinogen

F

= Flammable

I

= Irritant

S

= Sensitizer

T

= Toxic

Extra info 64-001103-1 :

SDS

64-001103-05
Pfeiffer P3 vacuum pump oil for Pfeiffer UNO / DUO and other rotary vacuum pumps, 0.5 Liter


0.5 ltr
€12,50

Hazardous Symbol Explanation

= Hazard Shipping Fee

Cg

= Suspected Carcinogen

F

= Flammable

I

= Irritant

S

= Sensitizer

T

= Toxic

Extra info 64-001103-05 :

SDS
| | Edwards Ultragrade 19 vacuum pump oil for standard applications in single and dual stage rotary vacuum pumps |
| --- | --- |
Product #
Unit
Price*
Add to Quote / Order
64-001101-1
Edwards Ultragrade 19 vacuum pump oil for standard applications in single and dual stage rotary vacuum pumps


1 ltr
€23,75

Hazardous Symbol Explanation

= Hazard Shipping Fee

Cg

= Suspected Carcinogen

F

= Flammable

I

= Irritant

S

= Sensitizer

T

= Toxic

Extra info 64-001101-1 :

SDS

64-001101-4
Edwards Ultragrade 19 vacuum pump oil for standard applications in single and dual stage rotary vacuum pumps


4 ltr
€81,50

Hazardous Symbol Explanation

= Hazard Shipping Fee

Cg

= Suspected Carcinogen

F

= Flammable

I

= Irritant

S

= Sensitizer

T

= Toxic

Extra info 64-001101-4 :

SDS
| | P3 vacuum pump oil for Value VRI-Series rotary vacuum pumps |
| --- | --- |
Product #
Unit
Price*
Add to Quote / Order
64-001105-05
P3 vacuum pump oil for Value VRI-series rotary vacuum pump, 0.5 Liter


0.5 ltr
€12,50

Hazardous Symbol Explanation

= Hazard Shipping Fee

Cg

= Suspected Carcinogen

F

= Flammable

I

= Irritant

S

= Sensitizer

T

= Toxic

Extra info 64-001105-05 :

SDS