Welcome to our company:

Micro to Nano
Micro to Nano is a company specialised in innovative, practical and useful microscopy supplies for electron microscopy and scanning probe microscopy techniques. With a combined experience of over 50 years in electron microscopy, sample preparation, imaging technology and product distribution we have a deep understanding of the needs of our customers.

Most of the microscopy supplies, and especially the electron microscopy supplies, are designed by us and manufactured by highly specialized partner companies. This enables us to supply our customers with state-of-the-art, high quality products needed for the task at hand. High quality microscopy supplies and consumables are essential for microscopy specimen preparation and for producing optimum results. Succesfull specimen preparation is a crucial step in getting the best images and reliable data from your samples.

Micro to Nano offers its product to customers in all European countries and beyond from its centralized office and warehouse located in Haarlem, the Netherlands. Being close to major transportation hubs ensures fast delivery. We aim to have common products in stock, other items we can get relatively quickly through our network of partner companies. Since many products are manufactured under our control, we are able to offer first-rate products against competitive pricing.

One of our core strengths is working with our customers to bring new and innovative products to the microscopy marketplace. Our list of products is constantly increasing and we invite you, our customer, to browse our website and to discover the innovative, unique, high quality products we offer. If you don't find what you are looking for, please don't hesitate to contact us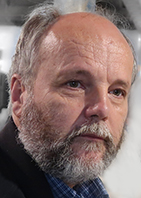 Jack Vermeulen,

Managing Director and Founder
Contact:

Telephone: +31 (0)85 2013155

Email: info@microtonano.com